Monroe offers pneumatic casters which feature air filled pneumatic wheels. Pneumatic casters are designed for low speed manually moved applications only. Pneumatic casters provide a cushioned ride, shock absorption and quiet operation. Pneumatic casters are perfect for moving fragile cargo. Pneumatic casters are the best choice for use outdoors over rough surfaces, such as gravel, or on grass. Pneumatic casters are also perfect for indoor use in hospitals, scientific and electronic laboratories, hotels, department stores and TV or movie studios. For help choosing the right wheel, please consult the reference materials or call our sales team. For more information on our caster wheel products or any of our other products, please call or request an RFQ.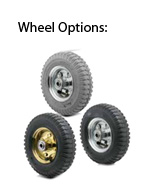 Wheel: premium quality designed to eliminate lope and wobble while rolling.
Finish: bright zinc, brass or chrome plating to resist rust and corrosion.
Swivel Grease Seal: standard on polished brass models.
Swivel Construction: double ball bearing.
Axle: 1/2" diameter.
King Pin: 5/8" steel rivet, hydraulically upset.
Zerk Grease Fitting: swivel raceway.
Fork Leg Spacing: 8" wheel 3", 10" wheel 4".
Top Plate Size 4" x 4-1/2"
Bolt Hole Spacing 2-5/8" x 3-5/8" to 3" x 3".
Mounting Bolt Size 3/8".
Brake options are available, contact sales.
MC8-W81-940

IntegrationID

N/A


80380

Weight

N/A

8.00 lbs

Wheel Diameter

N/A

8.00 in

Tread Width

N/A

2.80/4 in

Wheel Type

N/A

Black Pneumatic Rubber

Wheel Bearing

N/A

Ball

Capacity

N/A

310 lbs

Load Height

N/A

9.50 in

Swivel Radius

N/A

6.13 in

Caster Type

N/A

Swivel Zinc Plated

Caster Type Psearch

N/A

Swivel

MC8-W81-940G

IntegrationID

N/A


80381

Weight

N/A

8.00 lbs

Wheel Diameter

N/A

8.00 in

Tread Width

N/A

2.80/4 in

Wheel Type

N/A

Grey Pneumatic Rubber

Wheel Bearing

N/A

Ball

Capacity

N/A

310 lbs

Load Height

N/A

9.50 in

Swivel Radius

N/A

6.13 in

Caster Type

N/A

Swivel Zinc Plated

Caster Type Psearch

N/A

Swivel

MC10-W87-940

IntegrationID

N/A


80382

Weight

N/A

9.00 lbs

Wheel Diameter

N/A

10.00 in

Tread Width

N/A

4.10/4 in

Wheel Type

N/A

Black Pneumatic Rubber

Wheel Bearing

N/A

Ball

Capacity

N/A

470 lbs

Load Height

N/A

13.00 in

Swivel Radius

N/A

7.63 in

Caster Type

N/A

Swivel Zinc Plated

Caster Type Psearch

N/A

Swivel

MC8-W82-940

IntegrationID

N/A


80383

Weight

N/A

8.00 lbs

Wheel Diameter

N/A

8.00 in

Tread Width

N/A

2.80/4 in

Wheel Type

N/A

Black Pneumatic Rubber

Wheel Bearing

N/A

Ball

Capacity

N/A

310 lbs

Load Height

N/A

9.50 in

Swivel Radius

N/A

Caster Type

N/A

Rigid Zinc Plated

Caster Type Psearch

N/A

Rigid

MC8-W82-940G

IntegrationID

N/A


80384

Weight

N/A

8.00 lbs

Wheel Diameter

N/A

8.00 in

Tread Width

N/A

2.80/4 in

Wheel Type

N/A

Grey Pneumatic Rubber

Wheel Bearing

N/A

Ball

Capacity

N/A

310 lbs

Load Height

N/A

9.50 in

Swivel Radius

N/A

Caster Type

N/A

Rigid Zinc Plated

Caster Type Psearch

N/A

Rigid

MC10-W88-940

IntegrationID

N/A


80385

Weight

N/A

9.00 lbs

Wheel Diameter

N/A

10.00 in

Tread Width

N/A

4.10/4 in

Wheel Type

N/A

Black Pneumatic Rubber

Wheel Bearing

N/A

Ball

Capacity

N/A

470 lbs

Load Height

N/A

13.00 in

Swivel Radius

N/A

Caster Type

N/A

Rigid Zinc Plated

Caster Type Psearch

N/A

Rigid

MC8-W81-940-1GSPB

IntegrationID

N/A


80386

Weight

N/A

8.00 lbs

Wheel Diameter

N/A

8.00 in

Tread Width

N/A

2.80/4 in

Wheel Type

N/A

Black Pneumatic Rubber

Wheel Bearing

N/A

Ball

Capacity

N/A

310 lbs

Load Height

N/A

9.50 in

Swivel Radius

N/A

6.13 in

Caster Type

N/A

Swivel Polished Brass

Caster Type Psearch

N/A

Swivel

MC8-W82-940-1GSPB

IntegrationID

N/A


80387

Weight

N/A

8.00 lbs

Wheel Diameter

N/A

8.00 in

Tread Width

N/A

2.80/4 in

Wheel Type

N/A

Black Pneumatic Rubber

Wheel Bearing

N/A

Ball

Capacity

N/A

310 lbs

Load Height

N/A

9.50 in

Swivel Radius

N/A

Caster Type

N/A

Rigid Polished Brass

Caster Type Psearch

N/A

Rigid

MC8-W81-940-1PC

IntegrationID

N/A


80388

Weight

N/A

8.00 lbs

Wheel Diameter

N/A

8.00 in

Tread Width

N/A

2.80/4 in

Wheel Type

N/A

Black Pneumatic Rubber

Wheel Bearing

N/A

Ball

Capacity

N/A

310 lbs

Load Height

N/A

9.50 in

Swivel Radius

N/A

6.13 in

Caster Type

N/A

Swivel Polished Brass

Caster Type Psearch

N/A

Swivel

MC8-W82-940-1PC

IntegrationID

N/A


80389

Weight

N/A

8.00 lbs

Wheel Diameter

N/A

8.00 in

Tread Width

N/A

2.80/4 in

Wheel Type

N/A

Black Pneumatic Rubber

Wheel Bearing

N/A

Ball

Capacity

N/A

310 lbs

Load Height

N/A

9.50 in

Swivel Radius

N/A

Caster Type

N/A

Rigid Polished Brass

Caster Type Psearch

N/A

Rigid