Finish: bright zinc plating to resist rust and corrosion.
Design: heavy gauge cold rolled steel, formed for strength.
Swivel Construction: double ball bearing with hardened raceways.
Axle: 3/8" diameter riveted nut and bolt.
Top Plate Sizes (swivel & rigid).
Top Plate Size: 2-3/4" x 3-3/4"
Bolt Hole Spacing: 1-3/4" x 2-7/8" to 3".
Mounting Bolt Size: 5/16"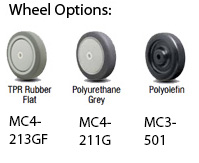 Brake options are available, contact Sales
MC3-51N-213NF

IntegrationID

N/A


79694

Weight

N/A

1.75 lbs

Series

N/A

50N

Wheel Diameter

N/A

3.00 in

Tread Width

N/A

1.25 in

Wheel Type

N/A

Thermoplastic Rubber / Flat

Wheel Bearing

N/A

Precision Ball

Capacity

N/A

170 lbs

Load Height

N/A

4.38 in

Caster Type

N/A

Rigid

Caster Type Psearch

N/A

Rigid

MC3-51N-314NF

IntegrationID

N/A


79695

Weight

N/A

1.75 lbs

Series

N/A

50N

Wheel Diameter

N/A

3.00 in

Tread Width

N/A

1.25 in

Wheel Type

N/A

Thermoplastic Rubber / Flat

Wheel Bearing

N/A

Plain

Capacity

N/A

170 lbs

Load Height

N/A

4.38 in

Caster Type

N/A

Rigid

Caster Type Psearch

N/A

Rigid

MC3-51N-213NG

IntegrationID

N/A


79696

Weight

N/A

1.75 lbs

Series

N/A

50N

Wheel Diameter

N/A

3.00 in

Tread Width

N/A

1.25 in

Wheel Type

N/A

Polyurethane / Grey

Wheel Bearing

N/A

Precision Ball

Capacity

N/A

250 lbs

Load Height

N/A

4.38 in

Caster Type

N/A

Rigid

Caster Type Psearch

N/A

Rigid

MC3-51N-314NG

IntegrationID

N/A


79697

Weight

N/A

1.75 lbs

Series

N/A

50N

Wheel Diameter

N/A

3.00 in

Tread Width

N/A

1.25 in

Wheel Type

N/A

Polyurethane / Grey

Wheel Bearing

N/A

Plain

Capacity

N/A

250 lbs

Load Height

N/A

4.38 in

Caster Type

N/A

Rigid

Caster Type Psearch

N/A

Rigid

MC4-51N-213NF

IntegrationID

N/A


79698

Weight

N/A

2.50 lbs

Series

N/A

50N

Wheel Diameter

N/A

4.00 in

Tread Width

N/A

1.25 in

Wheel Type

N/A

Thermoplastic Rubber / Flat

Wheel Bearing

N/A

Precision Ball

Capacity

N/A

190 lbs

Load Height

N/A

5.44 in

Caster Type

N/A

Rigid

Caster Type Psearch

N/A

Rigid

MC4-51N-314NF

IntegrationID

N/A


79699

Weight

N/A

2.50 lbs

Series

N/A

50N

Wheel Diameter

N/A

4.00 in

Tread Width

N/A

1.25 in

Wheel Type

N/A

Thermoplastic Rubber / Flat

Wheel Bearing

N/A

Plain

Capacity

N/A

190 lbs

Load Height

N/A

5.44 in

Caster Type

N/A

Rigid

Caster Type Psearch

N/A

Rigid

MC4-51N-213NG

IntegrationID

N/A


79700

Weight

N/A

2.50 lbs

Series

N/A

50N

Wheel Diameter

N/A

4.00 in

Tread Width

N/A

1.25 in

Wheel Type

N/A

Polyurethane / Grey

Wheel Bearing

N/A

Precision Ball

Capacity

N/A

300 lbs

Load Height

N/A

5.44 in

Caster Type

N/A

Rigid

Caster Type Psearch

N/A

Rigid

MC4-51N-314NG

IntegrationID

N/A


79701

Weight

N/A

2.50 lbs

Series

N/A

50N

Wheel Diameter

N/A

4.00 in

Tread Width

N/A

1.25 in

Wheel Type

N/A

Polyurethane / Grey

Wheel Bearing

N/A

Plain

Capacity

N/A

300 lbs

Load Height

N/A

5.44 in

Caster Type

N/A

Rigid

Caster Type Psearch

N/A

Rigid

MC5-51N-213NF

IntegrationID

N/A


79702

Weight

N/A

3.00 lbs

Series

N/A

50N

Wheel Diameter

N/A

5.00 in

Tread Width

N/A

1.25 in

Wheel Type

N/A

Thermoplastic Rubber / Flat

Wheel Bearing

N/A

Precision Ball

Capacity

N/A

200 lbs

Load Height

N/A

6.50 in

Caster Type

N/A

Rigid

Caster Type Psearch

N/A

Rigid

MC5-51N-314NF

IntegrationID

N/A


79703

Weight

N/A

3.00 lbs

Series

N/A

50N

Wheel Diameter

N/A

5.00 in

Tread Width

N/A

1.25 in

Wheel Type

N/A

Thermoplastic Rubber / Flat

Wheel Bearing

N/A

Plain

Capacity

N/A

200 lbs

Load Height

N/A

6.50 in

Caster Type

N/A

Rigid

Caster Type Psearch

N/A

Rigid

MC5-51N-513

IntegrationID

N/A


79704

Weight

N/A

3.00 lbs

Series

N/A

50N

Wheel Diameter

N/A

5.00 in

Tread Width

N/A

1.25 in

Wheel Type

N/A

Polyolefin

Wheel Bearing

N/A

Plain

Capacity

N/A

300 lbs

Load Height

N/A

6.50 in

Caster Type

N/A

Rigid

Caster Type Psearch

N/A

Rigid

MC5-51N-213NG

IntegrationID

N/A


79705

Weight

N/A

3.00 lbs

Series

N/A

50N

Wheel Diameter

N/A

5.00 in

Tread Width

N/A

1.25 in

Wheel Type

N/A

Polyurethane / Grey

Wheel Bearing

N/A

Precision Ball

Capacity

N/A

300 lbs

Load Height

N/A

6.50 in

Caster Type

N/A

Rigid

Caster Type Psearch

N/A

Rigid

MC5-51N-314NG

IntegrationID

N/A


79706

Weight

N/A

3.00 lbs

Series

N/A

50N

Wheel Diameter

N/A

5.00 in

Tread Width

N/A

1.25 in

Wheel Type

N/A

Polyurethane / Grey

Wheel Bearing

N/A

Plain

Capacity

N/A

300 lbs

Load Height

N/A

6.50 in

Caster Type

N/A

Rigid

Caster Type Psearch

N/A

Rigid