Finish: bright nickel plated for attractive appearance and rust and corrosion resistance.
Design: heavy gauge cold rolled steel, formed for strength.
Dust Cap: all swivel models feature dust cap which protects swivel raceway bearings and improves performance.
Swivel Construction: double ball bearing with hardened raceways.
Axle: 3/8" diameter bolt with lock nut.
King Pin: 1/2" steel, hydraulically upset.
Standard Stem Sizes: to order, specify stem code number and add to end of caster model number.
STEM 1: 1/2" diameter -13 x 1" long
STEM 2: 1/2" diameter -13 x 1- 1/2" long
STEM 3: 3/4" diameter-10 x 1-3/4" long
NOTE: Image above is total lock version of caster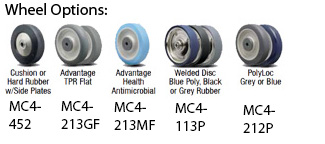 Brake options are available, contact Sales
MC4-56-113G SL1

IntegrationID

N/A


79657

Weight

N/A

2.75 lbs

Series

N/A

56

Wheel Diameter

N/A

4.00 in

Tread Width

N/A

1.25 in

Wheel Type

N/A

Welded Disk / Grey Rubber

Wheel Bearing

N/A

Ball

Capacity

N/A

200 lbs

Load Height

N/A

5.00 in

Swivel Radius

N/A

3.75 in

Caster Type

N/A

Threaded Stem

Caster Type Psearch

N/A

Swivel

MC4-56-213GD SL1

IntegrationID

N/A


79658

Weight

N/A

2.75 lbs

Series

N/A

56

Wheel Diameter

N/A

4.00 in

Tread Width

N/A

1.25 in

Wheel Type

N/A

Advantage Thermoplastic Rubber / Round

Wheel Bearing

N/A

Ball

Capacity

N/A

250 lbs

Load Height

N/A

5.00 in

Swivel Radius

N/A

3.75 in

Caster Type

N/A

Threaded Stem

Caster Type Psearch

N/A

Swivel

MC4-56-314GD SL1

IntegrationID

N/A


79659

Weight

N/A

2.75 lbs

Series

N/A

56

Wheel Diameter

N/A

4.00 in

Tread Width

N/A

1.25 in

Wheel Type

N/A

Advantage Thermoplastic Rubber / Round

Wheel Bearing

N/A

Delrin

Capacity

N/A

250 lbs

Load Height

N/A

5.00 in

Swivel Radius

N/A

3.75 in

Caster Type

N/A

Threaded Stem

Caster Type Psearch

N/A

Swivel

MC4-56-113P SL1

IntegrationID

N/A


79660

Weight

N/A

2.75 lbs

Series

N/A

56

Wheel Diameter

N/A

4.00 in

Tread Width

N/A

1.25 in

Wheel Type

N/A

Welded Disk / Polyurethane

Wheel Bearing

N/A

Ball

Capacity

N/A

275 lbs

Load Height

N/A

5.00 in

Swivel Radius

N/A

3.75 in

Caster Type

N/A

Threaded Stem

Caster Type Psearch

N/A

Swivel

MC4-56-213G SL1

IntegrationID

N/A


79661

Weight

N/A

2.75 lbs

Series

N/A

56

Wheel Diameter

N/A

4.00 in

Tread Width

N/A

1.25 in

Wheel Type

N/A

Polyloc / Grey

Wheel Bearing

N/A

Ball

Capacity

N/A

275 lbs

Load Height

N/A

5.00 in

Swivel Radius

N/A

3.75 in

Caster Type

N/A

Threaded Stem

Caster Type Psearch

N/A

Swivel

MC4-56-21P SL1

IntegrationID

N/A


79662

Weight

N/A

2.75 lbs

Series

N/A

56

Wheel Diameter

N/A

4.00 in

Tread Width

N/A

1.25 in

Wheel Type

N/A

Polyloc / Bue

Wheel Bearing

N/A

Ball

Capacity

N/A

275 lbs

Load Height

N/A

5.00 in

Swivel Radius

N/A

3.75 in

Caster Type

N/A

Threaded Stem

Caster Type Psearch

N/A

Swivel

MC4-56-213GF SL1

IntegrationID

N/A


79663

Weight

N/A

2.75 lbs

Series

N/A

56

Wheel Diameter

N/A

4.00 in

Tread Width

N/A

1.25 in

Wheel Type

N/A

Advantage Thermoplastic Rubber / Flat

Wheel Bearing

N/A

Ball

Capacity

N/A

300 lbs

Load Height

N/A

5.00 in

Swivel Radius

N/A

3.75 in

Caster Type

N/A

Threaded Stem

Caster Type Psearch

N/A

Swivel

MC4-56-314GF SL1

IntegrationID

N/A


79664

Weight

N/A

2.75 lbs

Series

N/A

56

Wheel Diameter

N/A

4.00 in

Tread Width

N/A

1.25 in

Wheel Type

N/A

Advantage Thermoplastic Rubber / Flat

Wheel Bearing

N/A

Delrin

Capacity

N/A

300 lbs

Load Height

N/A

5.00 in

Swivel Radius

N/A

3.75 in

Caster Type

N/A

Threaded Stem

Caster Type Psearch

N/A

Swivel

MC5-56-500 SL1

IntegrationID

N/A


79665

Weight

N/A

3.00 lbs

Series

N/A

56

Wheel Diameter

N/A

5.00 in

Tread Width

N/A

1.25 in

Wheel Type

N/A

Cushion Rubber with Side Plates

Wheel Bearing

N/A

Ball

Capacity

N/A

200 lbs

Load Height

N/A

6.06 in

Swivel Radius

N/A

4.25 in

Caster Type

N/A

Threaded Stem

Caster Type Psearch

N/A

Swivel

MC5-56-113G SL1

IntegrationID

N/A


79666

Weight

N/A

3.00 lbs

Series

N/A

56

Wheel Diameter

N/A

5.00 in

Tread Width

N/A

1.25 in

Wheel Type

N/A

Welded Disk / Grey Rubber

Wheel Bearing

N/A

Ball

Capacity

N/A

200 lbs

Load Height

N/A

6.06 in

Swivel Radius

N/A

4.25 in

Caster Type

N/A

Threaded Stem

Caster Type Psearch

N/A

Swivel

MC5-56-213GD SL1

IntegrationID

N/A


79667

Weight

N/A

3.00 lbs

Series

N/A

56

Wheel Diameter

N/A

5.00 in

Tread Width

N/A

1.25 in

Wheel Type

N/A

Advantage Thermoplastic Rubber / Round

Wheel Bearing

N/A

Ball

Capacity

N/A

250 lbs

Load Height

N/A

6.06 in

Swivel Radius

N/A

4.25 in

Caster Type

N/A

Threaded Stem

Caster Type Psearch

N/A

Swivel

MC5-56-314GD SL1

IntegrationID

N/A


79668

Weight

N/A

3.00 lbs

Series

N/A

56

Wheel Diameter

N/A

5.00 in

Tread Width

N/A

1.25 in

Wheel Type

N/A

Advantage Thermoplastic Rubber / Round

Wheel Bearing

N/A

Delrin

Capacity

N/A

250 lbs

Load Height

N/A

6.06 in

Swivel Radius

N/A

4.25 in

Caster Type

N/A

Threaded Stem

Caster Type Psearch

N/A

Swivel

MC5-56-113P SL1

IntegrationID

N/A


79669

Weight

N/A

3.00 lbs

Series

N/A

56

Wheel Diameter

N/A

5.00 in

Tread Width

N/A

1.25 in

Wheel Type

N/A

Welded Disk / Polyurethane

Wheel Bearing

N/A

Ball

Capacity

N/A

300 lbs

Load Height

N/A

6.06 in

Swivel Radius

N/A

4.25 in

Caster Type

N/A

Threaded Stem

Caster Type Psearch

N/A

Swivel

MC5-56-213G SL1

IntegrationID

N/A


79670

Weight

N/A

3.00 lbs

Series

N/A

56

Wheel Diameter

N/A

5.00 in

Tread Width

N/A

1.25 in

Wheel Type

N/A

Polyloc / Grey

Wheel Bearing

N/A

Ball

Capacity

N/A

300 lbs

Load Height

N/A

6.06 in

Swivel Radius

N/A

4.25 in

Caster Type

N/A

Threaded Stem

Caster Type Psearch

N/A

Swivel

MC5-56-213P SL1

IntegrationID

N/A


79671

Weight

N/A

3.00 lbs

Series

N/A

56

Wheel Diameter

N/A

5.00 in

Tread Width

N/A

1.25 in

Wheel Type

N/A

Polyloc / Bue

Wheel Bearing

N/A

Ball

Capacity

N/A

300 lbs

Load Height

N/A

6.06 in

Swivel Radius

N/A

4.25 in

Caster Type

N/A

Threaded Stem

Caster Type Psearch

N/A

Swivel

MC5-56-213GF SL1

IntegrationID

N/A


79672

Weight

N/A

3.00 lbs

Series

N/A

56

Wheel Diameter

N/A

5.00 in

Tread Width

N/A

1.25 in

Wheel Type

N/A

Advantage Thermoplastic Rubber / Flat

Wheel Bearing

N/A

Ball

Capacity

N/A

325 lbs

Load Height

N/A

6.06 in

Swivel Radius

N/A

4.25 in

Caster Type

N/A

Threaded Stem

Caster Type Psearch

N/A

Swivel

MC5-56-314GF SL1

IntegrationID

N/A


79673

Weight

N/A

3.00 lbs

Series

N/A

56

Wheel Diameter

N/A

5.00 in

Tread Width

N/A

1.25 in

Wheel Type

N/A

Advantage Thermoplastic Rubber / Flat

Wheel Bearing

N/A

Delrin

Capacity

N/A

325 lbs

Load Height

N/A

6.06 in

Swivel Radius

N/A

4.25 in

Caster Type

N/A

Threaded Stem

Caster Type Psearch

N/A

Swivel

MC6-56-500 SL1

IntegrationID

N/A


79674

Weight

N/A

3.50 lbs

Series

N/A

56

Wheel Diameter

N/A

6.00 in

Tread Width

N/A

1.25 in

Wheel Type

N/A

Cushion Rubber with Side Plates

Wheel Bearing

N/A

Ball

Capacity

N/A

220 lbs

Load Height

N/A

7.06 in

Swivel Radius

N/A

4.75 in

Caster Type

N/A

Threaded Stem

Caster Type Psearch

N/A

Swivel

MC6-56-113G SL1

IntegrationID

N/A


79675

Weight

N/A

3.50 lbs

Series

N/A

56

Wheel Diameter

N/A

6.00 in

Tread Width

N/A

1.25 in

Wheel Type

N/A

Welded Disk / Grey Rubber

Wheel Bearing

N/A

Ball

Capacity

N/A

250 lbs

Load Height

N/A

7.06 in

Swivel Radius

N/A

4.75 in

Caster Type

N/A

Threaded Stem

Caster Type Psearch

N/A

Swivel

MC6-56-113P SL1

IntegrationID

N/A


79676

Weight

N/A

3.50 lbs

Series

N/A

56

Wheel Diameter

N/A

6.00 in

Tread Width

N/A

1.25 in

Wheel Type

N/A

Welded Disk / Polyurethane

Wheel Bearing

N/A

Ball

Capacity

N/A

300 lbs

Load Height

N/A

7.06 in

Swivel Radius

N/A

4.75 in

Caster Type

N/A

Threaded Stem

Caster Type Psearch

N/A

Swivel

MC6-56-213GD SL1

IntegrationID

N/A


79677

Weight

N/A

3.50 lbs

Series

N/A

56

Wheel Diameter

N/A

6.00 in

Tread Width

N/A

1.25 in

Wheel Type

N/A

Advantage Thermoplastic Rubber / Round

Wheel Bearing

N/A

Ball

Capacity

N/A

300 lbs

Load Height

N/A

7.06 in

Swivel Radius

N/A

4.75 in

Caster Type

N/A

Threaded Stem

Caster Type Psearch

N/A

Swivel

MC6-56-314GD SL1

IntegrationID

N/A


79678

Weight

N/A

3.50 lbs

Series

N/A

56

Wheel Diameter

N/A

6.00 in

Tread Width

N/A

1.25 in

Wheel Type

N/A

Advantage Thermoplastic Rubber / Round

Wheel Bearing

N/A

Delrin

Capacity

N/A

300 lbs

Load Height

N/A

7.06 in

Swivel Radius

N/A

4.75 in

Caster Type

N/A

Threaded Stem

Caster Type Psearch

N/A

Swivel

MC6-56-213G SL1

IntegrationID

N/A


79679

Weight

N/A

3.50 lbs

Series

N/A

56

Wheel Diameter

N/A

6.00 in

Tread Width

N/A

1.25 in

Wheel Type

N/A

Polyloc / Grey

Wheel Bearing

N/A

Ball

Capacity

N/A

300 lbs

Load Height

N/A

7.06 in

Swivel Radius

N/A

4.75 in

Caster Type

N/A

Threaded Stem

Caster Type Psearch

N/A

Swivel

MC6-56-213P SL1

IntegrationID

N/A


79680

Weight

N/A

3.50 lbs

Series

N/A

56

Wheel Diameter

N/A

6.00 in

Tread Width

N/A

1.25 in

Wheel Type

N/A

Polyloc / Bue

Wheel Bearing

N/A

Ball

Capacity

N/A

300 lbs

Load Height

N/A

7.06 in

Swivel Radius

N/A

4.75 in

Caster Type

N/A

Threaded Stem

Caster Type Psearch

N/A

Swivel