Finish: bright nickel plated for attractive appearance and rust and corrosion resistance.
Design: heavy gauge cold rolled steel, formed for strength.
Dust Cap: all swivel models feature dust cap which protects swivel raceway bearings and improves performance.
Swivel Construction: double ball bearing with hardened raceways.
Axle: 3/8" diameter bolt with lock nut.
King Pin: 1/2" steel, hydraulically upset.
Swivel Lock (1-position) – swivel locks in trailing position at 180° while wheel spins freely. Thermoplastic brake pedal is maintenance-free and provides positive locking force
Standard Stem Sizes: to order, specify stem code number and add to end of caster model number
STEM 1: .845" diameter round x 2- 3/16" long.
STEM 2: .865" diameter round x 2- 3/16" long.
STEM 3: 1" diameter round x 2- 3/16" long
STEM 4: .860 diameter SQUARE x 2- 3/16" long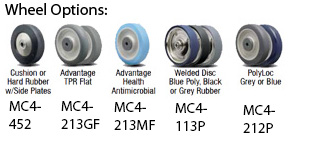 Brake options are available, contact Sales