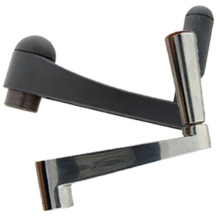 Crank handles are commonly used in applications where leverage from a single arm unit is best. Engineered and manufactured to strict standards, we have crank handles for every industrial product. Our crank handles are available in several materials including: plastic crank handles, stainless steel crank handles, and aluminum crank handles. Many of our crank handles are available in many styles and in several color options.
Keyword variations: crank handle, aluminum crank, steel crank handles, revolving crank handles, stainless steel crank handle
We at Monroe touch your life every day in the house that you live in, the way you get to work, and how the things you buy are made. In business, since 1958 we make and supply thousands of items through industry leading stock and sell solutions. Monroe sales engineers have the experience and can do approach to offer solutions to your unique needs. If the specific product you need isn't shown, let us know and we will make it, stock it, and deliver it as you need it.